Before I became a mom, I was an awesome mom with an awesome aesthetic. I had perfected my playroom designs. Visions of Dwell magazine spreads danced in my head. I imagined charming wooden toys thoughtfully organized in color-coded designer bins.
And then I became a mom of two boys. Now I live in a reality of light-up firetrucks and obnoxious Happy Meal toys and Hotwheels in every room in the house.
While I can't win them all, I still have a soft spot for Melissa & Doug toys. They're quality, handcrafted wooden toys and activities that foster imagination.
If you're like us and have kiddos stuck inside because of the frigid temps, I highly recommend checking out the Melissa & Doug toys, which are on sale now at One Kings Lane until this Friday. The creative toys keep little hands busy and brains engaged when faced with another cold day stuck inside.
If you've never heard of One Kings Lane, it's an upscale daily deal site, similar to Zulily. And you can sign up today for a $15 credit for purchases of $30 or more, which makes some of these deals even better!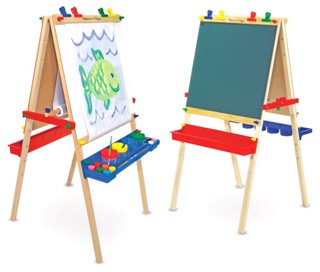 Joseph got this Melissa & Doug easel for Christmas and he loves it. It has a chalkboard, whiteboard, and paper. Whether he's painting or drawing, he's constantly creating art for me. I love the quality of it — no cheap plastic pieces. And, you can nab the accessory set here. Highly recommended! (Originally $80, on sale for $64 — or $49 with the new customer credit — steal!)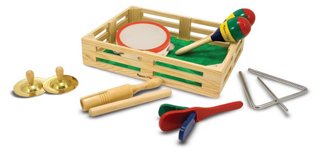 We also have this charming Band-in-a-box music set. We gave this to Joseph for his first Christmas, and the toys are still in great condition for Asher to play with. You should come over for a concert sometime and hear them. It's cute…at first. (Originally $25, on sale for $19.)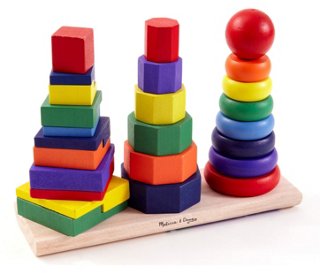 One of my favorite Melissa & Doug toys for all ages is the Geometric Stacker. I feel like it's the toy that keeps on giving, because there's so many different things you can do with it! With twenty-five colorful wooden pieces to match and stack on three rods, the combinations are endless. It's great for building early shape, color and size differentiation skills. (Originally $17, on sale for $14.)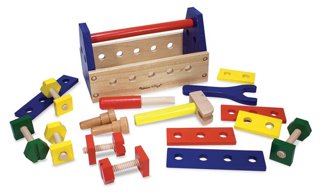 This portable kids handyman tool set is so cute, and Joseph always seems to get it out of the playroom when Jonny is working on something. This 24-piece toolbox includes all the nuts and bolts–and hammer, wrench, and nails–to give your Mr. (or Miss) Fix-It hours of creative, constructive fun. Preschoolers will love using the colorful tools to build their projects. I know my preschooler does! (Originally $15, on sale for $12.)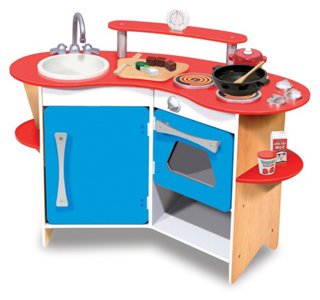 Okay, so we don't have this adorable kitchen — we have a thrifted, old-school Little Tikes kitchen that works just fine. But this, this is on my wishlist! How cute is it?! I loved playing with my play kitchen when I was little, and now Joseph (and even Asher!) enjoys it. A removable sink, a three-burner stove and oven with clicking knobs, a refrigerator, storage shelves, a "cutting board," and a real, working timer…everything a young chef needs is furnished in this compact and efficient kitchen. Sturdy wooden construction to satisfy every appetite for pretend house and restaurant play. (Originally $130, on sale for $115, or $100 with the new customer credit.) And, while I was at it, I'd go ahead and buy the charming Let's Play House! Kitchen set and the adorable Triple Layer Party Cake set. I'm such a sucker for play food!
So, what do you think? Do you have a fave Melissa & Doug item?
*Affiliate links used when applicable